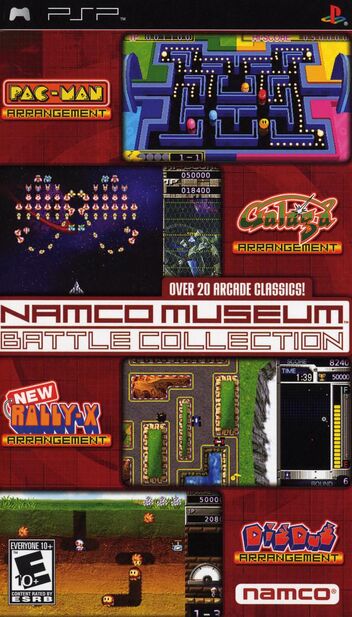 Namco Museum Battle Collection was released for the Playstation Portable in 2005.
Information
Edit
This edition of Namco Museum contains over 20 Namco games such as Pac-Man and Galaga also including "The New Arrangement".
Some of the games
Pac-Man Arrangement (2005 Version)
Galaga Arrangement (2005 Version)
New Rally-X Arangement
Dig-Dug Arrangement (2005 Version)
Pac-Man
Galaga
The Japanese version is divided into two volumes with the 2nd volume containing three extra games, Dragon Spirit, Moto Arrangement and Pac-Man Arrangement Plus.
The Arrangement games are not the same as they were in Namco Museum (PS2, Xbox, Gamecube) instead they are entirely new games.