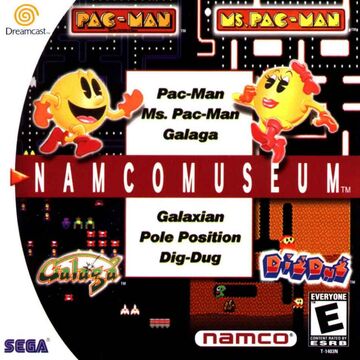 Namco Museum (N64, DC, GBA) was on November 29, 1999 and for the Game Boy Advance release was in 2004. This release was for the Nintendo 64 and Sega's Dreamcast. The developers are Mass Media and the publisher are Namco.
From this point on the collection has regular menu rather than the virtual museum modes.
This release contains
Pac-Man
Ms. Pac-Man
Galaga
Dig Dug
Pole Position
This volume was only released in North America.
Pac-Man is not included in the Game Boy Advance version.
The GBA version can not save high scores.
The N64 version is called Namco Museum 64.
The Dreamcast version features a mini game called Pac-It.
The game in this collection are from Namco Museum Volume 1 and 3.