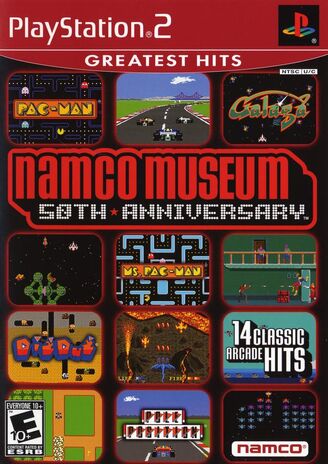 Namco Museum: 50th Anniversary refers to Namco's 50 years as a company, it was released on August 30, 2005 for the Playstation 2, Xbox, Gamecube, PC and Gameboy Advance with Digital Eclipse as the developers and Namco as the publishers.
Information
Edit
This is the first edition to feature true arcade game emulation. The Main Menu has five songs from the 80's
Come on Eilleen by Dexys Midnight Runners                           Working for the Weekend by Loverboy   She Drives Me Crazy by Fine Young Cannibals                         Talking in Your Sleep by The Romantics                                 Joystick by Dazz Band
This edition contains
Pac-Man
Ms. Pac-Man
Galaga
Galaxian
Dig Dug
Pole Position
Pole Position 2
Rolling Thunder
Rally-X
Bosconian
Dragon Spirit
Sky Kid
Xevious
Mappy
Pac-Mania
Galaga '88
Namco was critizied for including "Joystick" in this children-targeted game because the lyrics have sexual meaning.
The PC version was negatively received because it contains StarForce protection.
It can not run on Windows 7.
In the Japanese version, it was called Namco Museum: Arcade Hits and the main menu music has been changed.
The GBA version only contains Pac-Man, Ms. Pac-Man, Rally-X, Galaga and Dig Dug.